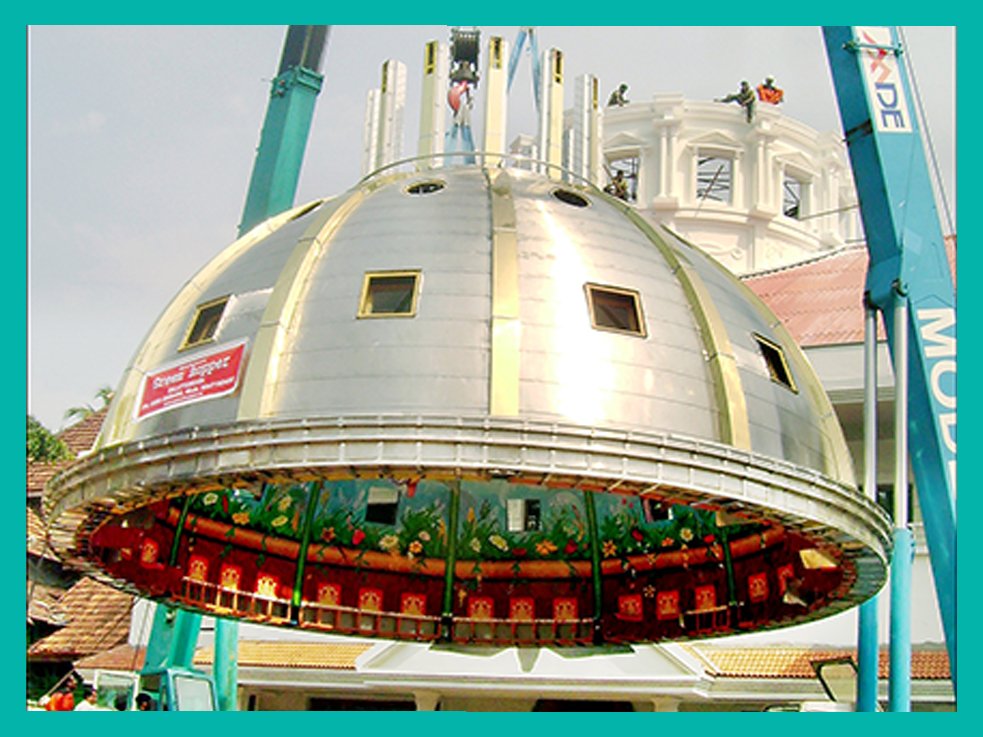 Introduction
Domes are indeed an important architectural feature in the Byzantine and Rome Empires era. Domes are done in various structures including Churches, Palaces and public places.
Domes represent not only the architectural beauty but also the importance of cultural and historical evidence of each structure.  Domes are often seen in Italy's St. Peter's Square (Vatican's Nervi Auditorium) and front row Kings and Empires beautiful palaces.
Biggest christian church dome
We at Greenhopper Pvt Ltd, Kallettumkara, Thrissur, Kerala, India are really proud of constructing the world's biggest Christian Church's dome. This is an important landmark of our workmanship.
This largest Church dome is done at St. Lazar's Church, Kottappady, Guruvayur, Thrissur District in Kerala finished in Mild Steel (MS), Stainless Steel (SS), Brass and inner cladding work is done in aluminium.
Purpose of metal domes
Metal Domes are used in architectural buildings for various purposes such as to showcase luxury, increase safety and also increase the magnificence of a structure. Metal Domes always carry the importance of historical and cultural aspects.
Mainly, Metal Domes are done to reduce the weightage on the building structure.
The use of glass and painted glass in the dome's design allow natural sunlight to enter into the building which will brighten the inner space and also add interior beauty to the building structure.
Materials used in metal domes
The beauty of the interior work is increased due to the elegant cladding done in aluminium.
Using Stainless Steel (SS) for the top portion of the dome can provide many advantages like durability and less maintenance. Due to less maintenance we can provide a 100% building life guarantee for the product.
Using Brass material to enhance the beauty of the dome, However we have to keep in mind that brass needs to be maintained periodically to keep the elegance of Dome for the long run.
Advantage of metal dome over concrete domes
By using metal dome in place of concrete dome, there will be many advantages like reducing weight and saving time and money.
Metal domes are typically lighter than concrete domes and there will be flexibility in changing design before completing the dome.
Using a crane and some labor, metal domes can be temporarily removed and reinstalled after its maintenance. (It is not necessary to get at the top of the building to maintain as compared to concrete domes.)
A crane can be used to remove the dome carefully from top of the building with safety measures without causing any damages, maintain it on the ground and then reinstall it after the maintenance is completed.
We at Greenhopper Pvt Ltd follow all the above stated measures for the construction and maintenance of metal domes
Leave Your Message & We Will Get Back To You Shortlly..